About Us
CMC provides an environment where student musicians of all ages and levels of experience can study and perform chamber music.
The CMC Experience:
CMC is a non-profit, performance-based, and equal opportunity educational program. Founder and Artistic Director Deborah Barrett Price—better known to students and faculty as Debbie—has maintained a policy of "no audition required" since starting the program in 1992. Students who apply to CMC are primarily string, piano, and woodwind players, but CMC accepts all types of instrumentalists and vocalists. Ensembles are formed based on age, previous experience, and their potential to learn from—and inspire—one another. Students must collaborate to achieve their musical goals.
CMC embraces collaborative teaching.
Our associated faculty of over forty professional musicians includes community pedagogues, members of local professional orchestras, as well as professors from prestigious universities and conservatories throughout the state of Ohio.
Coaches rotate, giving each group at least two different faculty members to work with over the course of each program. Students also receive coaching from visiting guest artists, who are often high-profile musicians in town to perform. Receiving feedback from a team of coaches and guest artists gives CMC students the opportunity to learn multiple interpretations and enables each group's unique creative process.
Outreach
Connection is one of our core values, and CMC connects to our local community in many ways: performing, donating services, and offering scholarships to students in need. Some of the organizations we have worked with include:
Make a Wish Foundations: Christine's Christmas

DOWD Center for Homeless at At Risk Families

Columbus City Schools
Highlands Presbyterian Church Souper Bowl Concert (fundraiser for the local food pantry)

Colerain Elementary School

Ohio State School for the Blind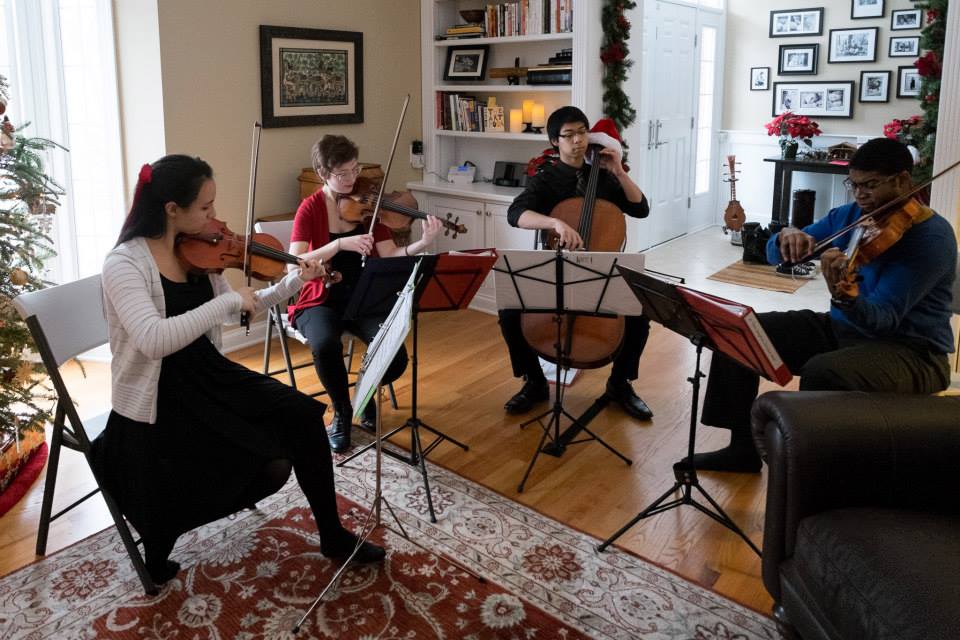 Program History
CMC prides itself on offering the most personalized, accessible, and high quality chamber music programs possible for our students. Over the course of its 29-year history, CMC continues to connect students and professionals locally, nationally, and internationally.
In 1992, the organization started with just twenty students who came together for a two-week educational summer festival. In 1998, CMC began offering programs year-round, finding a home at St. John's Episcopal Church in Worthington, Ohio. A typical CMC program now supports 20–30 chamber ensembles (about 100 students in groups ranging from trios to octets) and 5–7 chamber orchestras. The types of programs we offer have also expanded. These now include a high school fellowship program supporting students interested in arts entrepreneurship, jazz and popular music seminars, and a gig program presenting students with paid performance opportunities.
CMC's programs and the organization's leadership have received both local and national recognition. Achievements include the Columbus Symphony Community Educator of the Year Award honoring CMC Founder Deborah Barrett Price (2004), nominations for the Ohio Governor's Award for Arts Education and Arts Administration (2012, 2014), the Baldwin Wallace University Conservatory of Music Alumni Achievement Award honoring CMC Founder Deborah Barrett Price (2013), and the Chamber Music Society of Lincoln Center Award for Extraordinary Service in Chamber Music (2018). In addition to the national and regional recognition received by CMC and its administrators, the participants and ensembles of CMC consistently are top prize winners at the most prestigious chamber music competitions in the United States and go on to attend the most renowned music conservatories and universities in the country.
A Local, National and International Organization
Our students can be heard in major competitions, in the media, and on tour throughout the world.
Fischoff National Chamber Music Competition, University of Notre Dame, South Bend, IN

2006 – CMC Supplemental Program in Austria, Salzburg, and Czech Republic

2010 – CMC Supplemental Program in Bonefro and Rome Italy

2017 – CMC Supplemental Program in Nyon, Benigns, and Geneva Switzerland
Interested in Chamber Music Connection? Subscribe to receive more information!